Home
-> Computer Support
Computer Support
To advance the public's health and well-being through education, research & service
with a focus on issues affecting Louisiana
Password
Passwords can be reset by going to https://www.lsuhsc.edu/changepassword/.  If you have problems resetting your password and are unable to reach Public Health IT Support, you may call the Help Desk at 504-568-HELP (568-4357) to reset your password 24/7. 
Webmail
To check your LSUHSC email, go to http://webmail.lsuhsc.edu.  Please follow the directions on the page on how to log in to webmail; you will need to use "lsumc-master\ID" as your login on the second page.
Outlook
To set up your smart phone for LSUHSC email requires Mobile Device Management. MDM is a system that controls corporate data on personal devices such as a smartphone. MDM information can be found here. Android device enrollment can be found here while iPhone/iPad device enrollement can be found here. LSUHSC IT Support does not support personal smart phones such as the iPhone and Android phones.
If your Mass Mailings are being diverted to their Junk E-Mail folders.  You can check the box to add blackberryfilter@lsuhsc.edu to the Safe Senders list, or you could turn off Junk E-mail Filtering.  To do this, go to Tools -> Options -> Preferences Tab -> Junk email button and then click on the Safe Senders tab.  Click the add button and add blackberryfilter@lsuhsc.edu to the list.
Please check your Junk Email folder on a regular basis for legitimate emails.  Emails older than 45 days will be automatically deleted from both the Junk email folder and deleted items folder.
Email archiving - An "Archive LSUHSC" folder has been added to your mailbox and is available through your email client (Outlook and OWA). This folder displays the interface to the LSUHSC-NO email archive. You can click on the folder to open it or right click and choose to open it in a separate window. Through this interface, you can browse and search for items in your mailbox that exist in the email archive. While the archive interface is very intuitive, a tutorial has been created and is available at Email Archiving Videos for your convenience.
To report a SPAM message, forward them as attachments to spam@lsuhsc.edu, and they will be analyzed to help block future messages.  To forward a message as an attachment, users can create a new blank message, and drag the spam message onto it, so that it appears as an attachment in the message.  By doing that, the Postmasters will have access to the "header" information about the sender's mail server, delivery information, etc.
MediaSite
You will need to install MicroSoft Silverlight to view MediaSite presentations. See below for directions. MediaSite problems can be directed to "Public Health MediaSite Support." 

Moodle
If you are a student or Faculty, you have a moodle account. To access moodle, on campus, go to http://moodle.lsuhsc.edu. To access moodle off-campus, you need to be connected to the LSU Remote Access Portal. Once logged in, you will see a link to access moodle. Moodle problems can be directed to "Public Health Moodle Support." Moodle Quick Reference Guide
Symantic Endpoint Encryption
If you are having trouble logging into Symantic Endpoint Encryption, try using your old password. It will log you in and fail at the Windows login. Once you log into Windows, your Symantic Endpoint Encryption password should sync. If that does not work, use the logon assistance security questions. These are the three security questions you answered when you registered with SEE. If neither of these worked, call the HelpDesk and use the single use password option.
Wireless
LSUHSC has wireless internet access in various locations on campus. Instructions can be found here for wireless and mobile devices: Wireless Instructions.
Juniper Remote Access Portal
The LSUHSC network is protected by a firewall that limits connectivity from outside the network.  Juniper Remote Access Portal allows you to pass through the firewall and access these systems such as your network drives.
To access Remote Access Portal, go to https://remote.lsuhsc.edu. Instructions for using the portal can be found at here.
Mapping Network Drives
Click here to see instructions on how to map the School of Public Health T: drive and your personal secure O: drive. You will need to log into this secure site off campus with "lsumc-master\ID" to access it.
Mapping Network Printers
Click here to see instructions on how to map the School of Public Health LAN Printers within the 1615 Poydras location. You will need to log into this secure site off campus with "lsumc-master\ID" to access it.
LSUHSC-NO Emergency Alert System
In the event of an emergency situation, LSU Health Sciences Center—New Orleans administration has the capability to transmit pertinent information through the mediums of websites, phone trees, e-mail and text messaging to the entire spectrum of students, faculty and staff. Click here to sign up.
Internet Usage
LSUHSC operates a wide area network with a connection to the Internet.  It should only be used in a manner consistent with and in support of your roles and responsibilities with the University.  The University policy regarding use of its infrastructure is CM-42.  It can be found at: CM-42 - Information Technology (IT) Infrastructure.
Activities such as streaming audio (e.g., Internet Radio), streaming video, web surfing and file sharing can be problematic from several perspectives.  Some of the specific concerns are:
Exposing the University to civil liability for copyright infringement.
Mitigation of risks from malware such as viruses, spam and spyware.
Loss of productivity while doing activities not related to your job.
The impact on Internet response for legitimate activity.
The University monitors network traffic on a daily basis.  If inappropriate activity is discovered, Dean Fontham is notified.
A simple rule to follow is to avoid activity not related to your job.  While incidental use will probably not be detected, the safest course of action is avoiding activity that is not work related.
Please take a look at CM42.  If you have any questions, someone in Public Health IT Support can explain it in more detail.  We'll be happy to assist you in any way.
Contact Us
Email questions to publichealthitsupport@lsuhsc.edu
Computer Supporters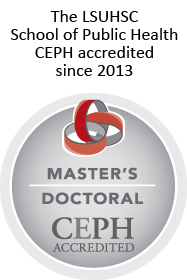 Our Programs

March 7, 2014
Special SPH Presentation:
Dr. Woolhandler, Single Payer Health Reform
Time: 1p
Location: MEB, Rm S4 (3209)

March 7, 2014
SPH Colorectal Cancer Awareness Month
March 14, 2014
Priority Deadline for Financial Aid for Summer